Адреса для листування:
а/с 5, м. Ковель, Волинська обл., 45008
Адмін: ut1pg(at)lrv.net.ua
Круглий стіл: ведучий UR4PWL op. Микола
Щонеділі на 3,603 MHz о 08:30 укр.
Постійно на УКХ - 145,400 та 435,400 MHz
П'ятниця, 27 травня 2022, 18:17
3D2/R  - The 3D2RRR  DXpedition team  has been active  from  Rotuma (OC-060)
         since 24 May,  and plans to remain QRV  until 5 June  "depending on
         weather forecast for return voyage to Fiji".  As of 27 May at 6 UTC
         the team had reached the 20,000 QSOs mark. QSL via Club Log's OQRS.
         See https://www.facebook.com/rebeldxgroup for updates.
Детальніше...
CQ Magazine Policy on Russia, Belarus, and Separatist Donbas Region
Четвер, 26 травня 2022, 18:13
The policy implemented by the Editors of CQ Magazine via their 17 March 2022 press release remains in effect for all CQ sponsored contests including WPX CW 2022.
Субота, 21 травня 2022, 09:17
3D2/R  - The team expects to set sail from Port Denarau Marina on 20 May  in
         the morning (Fiji time).  They will be QRV as E51DOM/mm  during the
         voyage, which will take about 72 hours.  3D2RRR will then be active
         from Rotuma for a couple of weeks. Plans are to run two stations on
         CW, one on SSB,  and  five on FT8  (Fox & Hound).  "This will be an
         experimental FT8 activity",  they say.  "We will operate two radios
         on the same band  at the same time".  QSL via Club Log's OQRS.  Up-
         dates will be posted to https://www.facebook.com/rebeldxgroup.
Детальніше...
П'ятниця, 13 травня 2022, 20:16
3B8    - Fabian, DF3XY will be active holiday style as 3B8/DF3XY from Mauri-
         tius (AF-049) from 21 May to 2 June.  He will operate mainly FT8 on
         40, 30 and 20 metres. QSL via home call, direct or bureau.
Детальніше...
ŁOŚ 2022. Do zobaczenia 27-29.05.2022
Неділя, 08 травня 2022, 05:12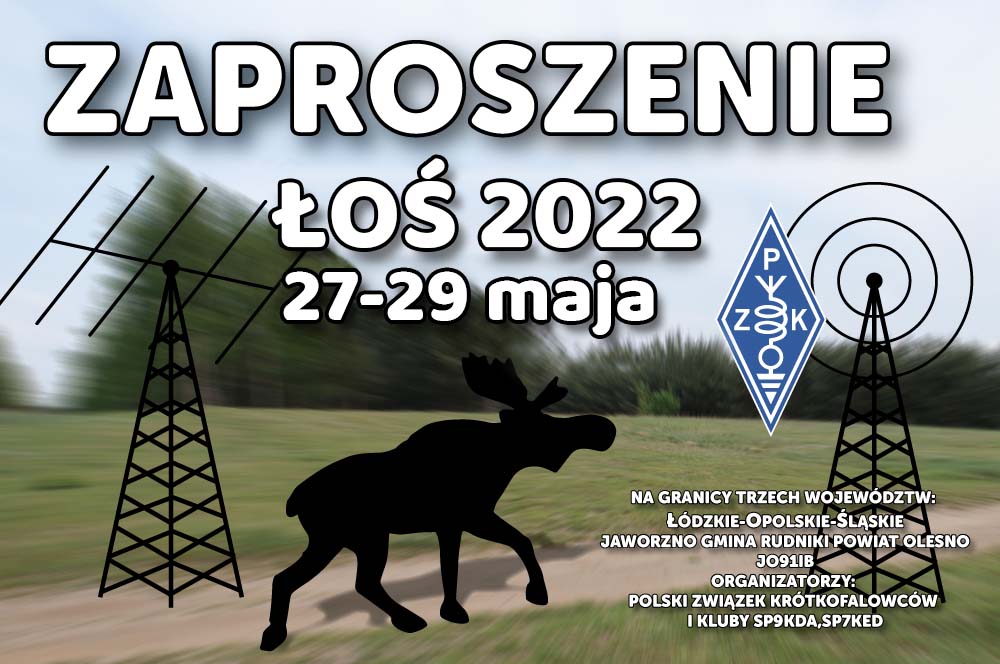 Miło nam poinformować że po konsultacjach z władzami terenowymi i PZK rozpoczęliśmy działania przy organizacji Ogólnopolskiego Spotkania Krótkofalowców ŁOŚ 2022.
Jak zwykle w tym samym terminie w ostatni weekend maja tj. 27-29.05.2022 kluby SP7KED i SP9KDA zapraszają na tą samą górkę w Jaworznie gmina Rudniki, pow. Olesno na granicy województw Łódzkiego, Opolskiego i Śląskiego.
Przeszło 20 osobowa grupa organizatorów będzie obecna już od środy 25.05, a wszyscy uczestnicy mogą przyjechać w dowolnym im pasującym terminie, gdyż ten teren jest nadal we władaniu Polskiego Związku Krótkofalowców.
Dołożymy wszelkich starań żeby zapewnić dobrą atmosferę, ciekawych prelegentów i odpowiednie zaopatrzenie.
Nie możemy tylko przewidzieć jaka będzie w maju sytuacja pandemiczna i dla tego rezerwujemy sobie prawo odwołania imprezy nawet na tydzień przed terminem rozpoczęcia.
Na pewno przeszkodą nie będzie pogoda bo ta choć bywała różna to Spotkanie zawsze było udane i było o czym opowiadać w eterze.
Do zobaczenia w JO91IB.

Zespół klubów SP7KED, SP9KDA
https://www.losnapograniczu.pl/
Субота, 07 травня 2022, 13:33
5X     - Anders, SM0HPL has been active again as 5X7W  from  Kampala, Uganda
         since 1 May, and will remain there until 10 May. He operates QRP on
         40-10 metres FT8, FT4 and CW. QSL via M0OXO's OQRS, LoTW and eQSL.
Детальніше...
<<

Початок

<

Попередня

1

2 3 4 5 6 7 8 9 10 Наступна > Кінець >>


Сторінка 1 з 297